The Route
The Via Alpina Sacra is the attempt at the longest pilgrimage route through the alps connecting 8 countries and more than 200 of the largest, most beautiful, oldest, highest, most significant catholic shrines, churches and monasteries. Its length is about 2550 miles (4100km) with 600.000 vertical feet (180.000m) of positive elevation change (i.e. counting only ups). Its starting point is the patriarchal basilica of Aquileia (Italy). Its end point is one of the oldest monastic settlements in the West on the island of Saint-Honorat (410) off Cannes (France).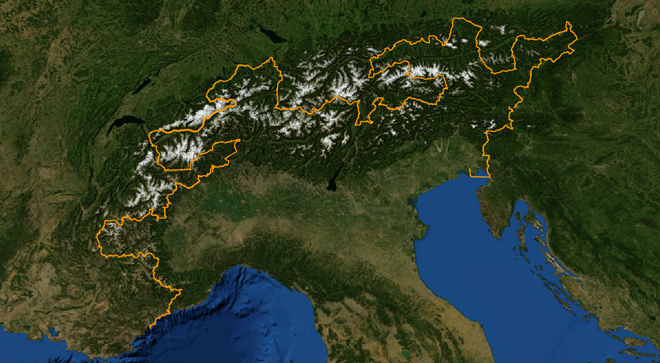 The Pilgrim
Patriarchal Beard Wearer, Long Distance Stroller, Yoghurt-Lover, Ice-Cream-Eliminator, Dog-Wisperer, Cow-Conversationalist, Kangal-Fodder, Mosquito-Snob and Horsefly-Hitter are only a few of the pilgrimage related epithets that the catholic priest and part time hermit Fr. Johannes Maria Schwarz has aquired over many miles. The Austrian born clergy man with a PhD in Dogmatic Theology belongs to the Archdiocese of Vaduz and works on media related projects in the German speaking part of the world.
Be a part
There are different ways to be a part of the project:




Follow the journey as it happens via Instagram (4kmhpunktcom). Pictures will be uploaded daily or whenever possible. For those not using the app you can follow the news on this website (right column) or through the instagram web interface (link above)


The journey will be documented on video (in German). Should an international version be made available it will be posted on this youtube channel (donjojohannes) Head on over to explore. There are a ton of fun short clips, the complete 3MC (3 Minute Catechism) in English (plus many other languages) and do not miss a 15 part apologetics series explaining the differences between Christianity and Islam arriving in the fall. Subscribe to be in the loop.


UPDATE: Due to popular demand, the deadline was extended. You can continue to submit prayer requests even after May 1st.
There is room in my backpack for your prayer Intentions. Please use the button below to submit them (anonymously, if you so choose):


Leave a trace
The highest shrine in France is the chapel on Mont Thabor at about 10.400 feet. I was there last year and with the permafrost melting its crumbling structure is in dire need of repair. I've spoken to some people that are responsible for that place (parish priest and mayor) and as soon as there is a clear plan on how to go forward, I'll post a video about how you can help on my youtube channel and on instagram.