I got my first "real" hiking boots when I was 9 or 10 and I actually still remember the day we went shopping for them. They were beige and brown. And they were Lowa boots, as my grandma had recommended. Soon after, we left for my first "long" backpacking trip: the 59km "Waldviertler Vier-Märkte-Weg" - marked Red-White-Red-612 (for those who care for such details).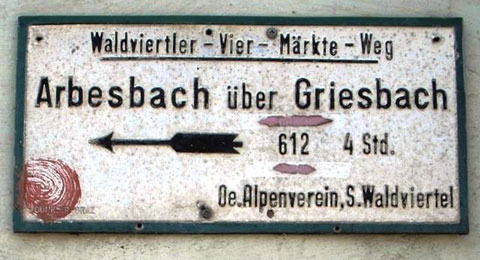 In the 25 years that came and went since that day I never lost my love for backpacking and long distances. The beige and brown Lowa were replaced by many a pair, the soles of which thinned again and again as I took them on journeys on 4 continents - traverses of the European alps, the Tien Shan mountains of Kyrgyzstan, the Tasmanian wilderness or the Rockies of Colorado.
Why hike?
Of all the ways that we move accross the face of this planet, walking is the simplest, most basic and slowest. And this is where I see its biggest benefits.
That which we call a "travelling" today is often nothing but a change in location. And changing your location has the one indisputable disandvantage of not lending itself to the most over-used proverb there is: "The journey
is
the destination". Think about all those summer night BBQ philosophising and trying to reach a profound conclusion without that line. Impossible, right?.
While walking is certainly a cheap way to live it does not pay the bills - none of them. But looking back at my primary focus in secondary education that is probably not too great a difference to my initial career path: visual and performing arts - especially considering I was not really good in either field.
I was a moderatly successful "street performer" though, travelling all over the place with my puppets. And by "moderately successful" I mean that it enabled me to live on Baguette, Camembert and Volvic Citron while hopping from one french city to another all summer long. Anyway. Long story short: now, I'm a catholic priest. There's a twist you did not expect, ey?
For the past 9 years before embarking on my journey I've been serving a parish in the mountains of the tiny principality of Liechtenstein - between Austria and Switzerland. And because my backyard looked like this...
...I had all the more reason to consider myself blessed.
But over the last 3 years the "artistic remains" of my old self made me spend way too many hours working on film productions and other projects. It was fun (and entirely my own fault) but there are only so many 100 hour work weeks, I was able to manage.
So at some point I had enough...or maybe too much. I yearned for the simpler life I once enjoyed. In fact the idea for this journey is some 15 years old. When I was a student of theology I put on my sandals, took neither money nor backpack and journeyed 3000 kilometers (some 1900 miles) into the West as a pauper pilgrim. Destination: Santiago de Compostella. The experience was incredible and ever since that pilgrimage I had hoped I could one day embark on a journey just like it - but going East.
I'm grateful to my kind and gentle Archbishop and the fortuitous pastoral situation in my diocese which made it possible that I could undertake this present journey and pilgrimage to renew the very core of my priestly life - the unconditional trust in God and his providence.
So East is where I'm heading now. And so as to log, remember and share my experiences I keep this blog as best as my sporadic connection to civilisation will allow.
God's rich blessings to you all,
Fr. Johannes Maria Schwarz
Easter 2013